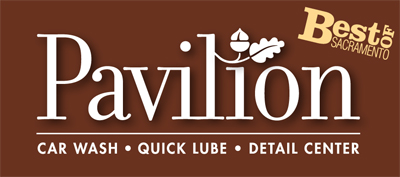 Pavilion Car Care
Car Wash, Quick Lube, Detail Center – Quality at Your convenience.
2334 Fair Oaks Blvd
Sacramento, CA 95825

HOURS


Open 8am – 6pm
7 Days a Week
Winner: Voted "Best Car Wash " by Sacramento Magazine!

Pavilion Car Care is a convenient, one stop facility for your vehicle.

Our car wash offers many services to help keep your car beautiful. Most services can be performed in 20 minutes to allow you to get back to your busy day.

Our Quick Lube uses the finest in Chevron Lubricants. Our Full Service Oil Change includes a 20 point inspection and a Full Service Car Wash. No appointment is necessary.

Our Detail Center specializes in services that keep your vehicle aesthetically pleasing inside and out. Please call to make an appointment

We offer a Green Car Wash

In 2007, Pavilion Car Care completed a makeover that uses a state of the art water reclamation vehicle cleaning system.

We are committed to cutting fresh water usage by 70% and soaps by 50%. After thorough research and testing we know we have selected the best equipment to clean your vehicle and reduce our environmental footprint.

Our goal is to deliver to our guests a quality wash, at a fair price, and in a reasonable amount of time. Simply put- QUALITY AT YOUR CONVENIENCE.

Winner: Voted "Best Car Wash " by Sacramento Magazine!