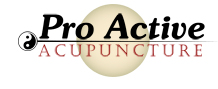 Pro Active Acupuncture
Experience the powerful benefits of acupuncture and herbal medicine.
2401 Capitol Ave Ste 100
Sacramento, CA 95816
About Us:

ProActive Acupuncture, Center for Asian Healing Arts, specializes in traditional Chinese medicine with a focus on Acupuncture and Herbal Medicine.

It is our priority that all patients receive the highest quality care.  Our Acupuncturists are knowledgeable and have a great respect for medicine. We work hand in hand with each patient to ensure the greatest results possible.

Visit us at ProActive Acupuncture and experience the many benefits that traditional Chinese medicine can provide!