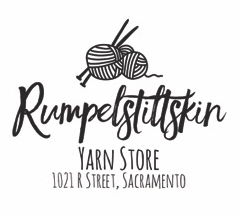 Rumpelstiltskin
Sacramento's best yarn shop located on The Grid's historic R Street corridor. 45+ years and running strong!
HOURS
Mon-Sat: 10am-6pm
Sun: 11am-4pm
Live INSTAGRAM shopping, special kits (mailed to you) and more.


Purchase an online Gift Card and Follow us on

Instagram for Online Sales

Rumpelstiltskins is now under NEW OWNERSHIP!

Longtime employee, Ciara Zanze, has taken over the shop and plans to re-create the look and feel of Sacramento's best and oldest yarn shop. Stay up to date with the latest ideas, trends, products and classes on their Facebook and Instagram pages. And stop by the shop during 2nd Saturdays and First Fridays during their extended hours.

This is a yarn store with beautiful supplies and friendly staff located on Sacramento's historic R Street corridor for more than 40 years.

Knitting - Weaving - Spinning - Felting - Supplies - Books - Classes

>>Check out our CLASSES

R Street corridor.