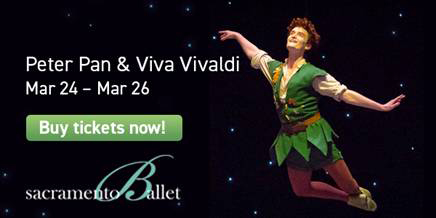 Sacramento Ballet
Where Art Comes To Life. Enriching the community through dance and cultural arts.
Peter Pan & Viva Vivaldi

Co-sponsor: Jim Hargrove

Co-sponsor: Richard & Ursula Wertz

March 24th at 7:30pm March 25th at 2:00pm March 25th at 7:30pm March 26th at 2:00pm

Let your imagination soar on a non-stop flight past the second star on the right to Neverland with the boy who won't grow up.  Join Peter, Wendy, Tinker Bell, Tiger Lily, and the Lost Boys as they outwit the nefarious Captain Hook, the baddest Pirate of them all.  Ron Cunningham's high flying Peter Pan is perfect fun for the whole family!

Sharing the program with

Peter Pan

is the high energy tour-de-force,

Viva Vivaldi

. Resident choreographer and co-founder of the Joffrey Ballet, Gerald Arpino's seminal work was part of the dance revolution that catapulted the Joffrey Ballet to international acclaim!