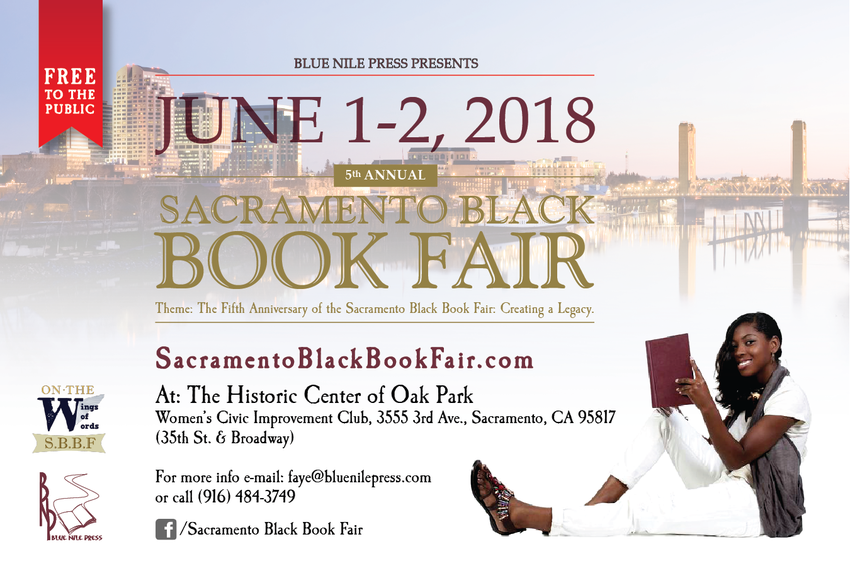 Sacramento Black Book Fair
Sacramento Black Book Fair, annual event in June
Sacramento Black Book Fair
June 1 & 2, 2018

2018 theme Annual Sacramento Black Book Fair (SBBF) CREATING A LEGACY

This historic 2-day book fair and celebration will include a panel discussion among the featured authors, book signings, talks by each of the featured writers, cultural & food vendors, book discussions with each of the featured writers, children's activities, poetry readings, art displays, and much more. June 1st and June 2nd.

The 2018 SBBF Planning Committee includes Dr. David Covin, Founder, Blue Nile Press,The Black Group, Wendy Covin, Faye Wilson Kennedy, Amina Merritt, The Merritt Law Center, Barbara Range, The Brickhouse Art Gallery, Gary Simon, Kakwasi Somadhi, John Taylor, Larry Harris, Adell Seibles, Kareem Daniels, Sacramento NAACP, Black United Fund of Sacramento Valley, NIA Women of Purpose, and the Talking Drums News. Georgia West, and William Johnson.