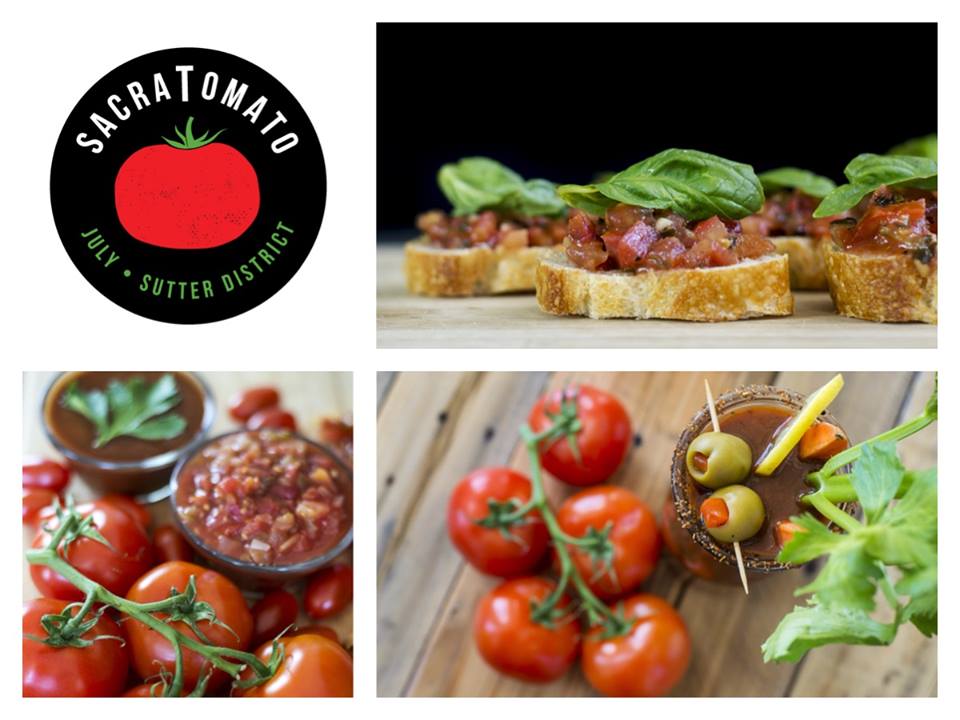 SacraTomato Week & Festival
Annual event following SacraTomato Week in the Sutter District
SacraTomato Week & Festival
Sutter's Fort
2701 L St.
Sacramento, CA
July 18-23

Get ready to savor the tomato when Midtown Sacramento's Sutter District presents the third annual "Sacratomato Week" July 18-23, 2016. Back by popular demand, the food-focused week will culminate with a fun and FREE family-friendly festival that will take place on the grounds outside of Sutter's Fort State Historic Park (SHP) onSaturday, July 23, from 4 to 8 p.m.  The weeklong celebration of Sacramento's signature commodity is hosted by the Sutter District with generous support from Midtown Business Association (MBA) and produced by Unseen Heroes.

Sacratomato Week — July 18-23

Most Sutter District bars and restaurants are participating in "Sacratomato Week," including:  Barwest, Biba, Cafe Bernardo/Monkey Bar, Centro Cocina Mexicana, Harlow's Restaurant & Nightclub, INK Eats & Drinks, Paragary's Midtown and Red Rabbit Kitchen & Bar. 

All week long, the vibrant and engaging restaurants, bars and nightclubs located in Midtown's Sutter District will celebrate "Sacratomato Week" with tomato-themed menu options, drink specials and even a creative dessert this year!

 The greater Sacramento community is invited to stroll through Midtown's lively and eclectic Sutter District visiting the local restaurants, bars and nightclubs to order and enjoy tomato-themed edibles and beverages bursting with the farm-fresh flavors that flourish in our agriculture rich region. A delicious sampling of the special drink and menu items that will be featured during "Sacratomato Week" include the following:

Bar West — Sundried Tomato Stuffed Burger with Fried Mozzarella, Basil and Smoked Tomato Jam plus a House-made Michelada beverage;

Biba — Dixon Lamb and Whole Milk Ricotta-Filled Crepes, cooked in a flavorful Tomato Sauce and Pecorino Sardo;

Cafe Bernardo/Monkey Bar — Linguine with Shrimp and Tomato plus a Raspberry-Ancho Chile Bloody Maria;

Centro Concina Mexicana — Milanesa de Pollo con Salsa de Tomate Mexican Style Fried Chicken Breast, Lime Dressed Cabbage Slaw, Heirloom Tomato-Avocado Salsa, Pickled Red Onions, Pinto Beans plus two drinks: a Fire Roasted Tomato and Chile infused Tequila and a Tomato, Strawberry and Basil infused Tequila;

Harlow's – Heirloom Tomato and Burrata Cheese Salad;

INK Eats & Drinks — Fried Green Tomato BLT Sandwich with Thick Cut Bacon, Arugula and a Citrus Aioli on Ciabatta;

Paragary's Midtown — Heirloom Tomatoes and Stone Fruit dessert with Olive Oil Gelato, Almond Tuille plus an Heirloom Tomato Shrub drink with Ray Yeung Farms 'Great White' Heirloom Tomatoes, White Peppercorn, Lemon Peel and Sparrow Lane Golden Balsamic Vinegar;

Red Rabbit — Deep Fried Capresse: Breaded Del Rio Cherry Tomatoes and Fresh Mozzarella deep fried served with a Pesto Yogurt Sauce and Aged Balsamic Drizzle plus a Sun Kissed Cooler drink with organic and fresh cold-pressed Tomato, Watermelon, Strawberry and Lemon juices, Serrano Pepper and Gin or Vodka (made from Sacramento hard winter wheat).

Sacratomato Festival — July 23 from 4 to 8 p.m.

Then to finish off the festive week, a large-scale family-friendly festival will take place outside on the grounds of Sutter's Fort SHP.  The free Sacratomato Festival will include lots to see and do, such as the following:

A fun and lively salsa making competition presented by Centro Cocina Mexicana;

An engaging and hands-on "Tomato Patch" area for kids featuring activities coordinated by the Sacramento Food Literacy Center and presented by Café Bernardo;

Tasty foods for sampling and/or sale by Sutter District and other local restaurants and bars;

Cooking demonstrations by the area's talented top chefs;

A variety of popular Midtown Farmers Market vendors;

A live music and entertainment stage presented by Harlow's with music from Skyler's Pool (featuring the husband/wife team of Paragary Restaurant Group's Executive Chef Kurt Spataro and KFBK's Kitty O'Neal), and Cuban Salsa Band, Conjunto Liberacion;

Plus a cocktail area for adults with tomato-inspired specialty drinks by Barwest, Paragary's in Midtown and Red Rabbit.

Interested community members are encouraged to sign up for the salsa making competition that will be judged in a blind taste test by Sutter District restaurant representatives and one "chef genius" from Sacramento Food Literacy.  All ingredients and materials will be provided although competitors are each allowed to bring three ingredients if desired. Deadline to enter online is July 8th at 5 p.m. and the cost is $25 per person to participate.  The winner of the salsa making competition will win a fun gift basket and the coveted "Best Salsa in the Sutter District" title.