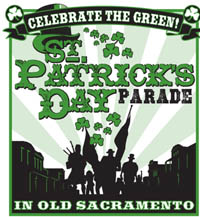 St. Patrick's Day Parade
Annual event in March in Old Sacramento
Old Sacramento
Sacramento, CA 95814
March 16, 2019


One of Northern California's Largest and Most Colorful Parades Unites All Cultures


Over 50 units with nearly 1,000 marchers will be featured in the parade. Irish dancers in elaborate Celtic costumes, bagpipers, bands, military regiments, police and fire representatives, costumed marchers and a variety of cultural organizations bring the luck of the Irish to the event. The parade draws people from all over Northern California, bringing together thousands in the 28-acre historic site.

Parking can be found in one of three convenient garages: Old Sacramento Garage (2nd & I), Tower Garage (Capitol & Neasham), and Macy's West (3rd & L).