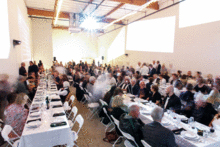 TV Dinner
Annual art, culture & foodie event in May at Verge Center for the Arts.
May


TV Dinner is the product of a collaboration between Thiemann and Verge, bringing together fine dining and interactive art.

We can't wait to party with you at this singularly Verge event! Click through to learn more about event sponsorship opportunities, or to purchase your tickets.