Food Pick-Up, Delivery, Dine-In / Restaurant Community Info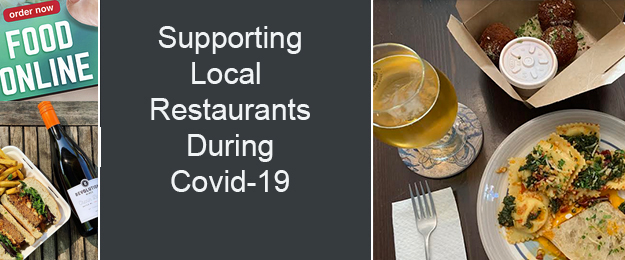 Many Sacramento restaurants are open for curbside pick-up, delivery, along with a growing number of Dine-In options. Gift certificates are also available at most area establishments. Purchase online or give them a call to inquire. Now is the time to support locally-owned as much as possible.
6/17/20 Black owned restaurants from the Sac Bee
6/12/20 Black owned restaurants resource
List of Dine-In options on the Grid
4/1/20  Downtown Grid's latest food options e-newsletter:
Downtown Grid Eats – TAKEOUT – April 1, 2020
3/29/20
Family Meal Sacramento – Please donate and share!
Family Meal is a chef-driven initiative to mobilize restaurants as micro-commissaries to create meals for people in need. Your contribution not only feeds people in need but also benefits everyone in the food service supply chain. Restaurants utilize the donation to keep staff on payroll and order supplies from local farmers and purveyors in the "farm to fork" capital of the world. 

3/29/20
Visit, post, share: #UniteSac – A Sacramento community COVID-19 relief effort
3/23/20
Many locally-owned Sacramento restaurants are open for curbside pick-up and delivery. We have 3rd party delivery options listed below and suggest that you check first with restaurant websites and social pages for current  information. Please stay updated on the latest recommendations by federal, state and local health officials and consider ways to support your favorite local businesses during this pandemic. Stay healthy and safe.
In community,
Julia Seebach and Rebecca Sykes, Downtown Grid Inc.
(For our growing list of community resources and assistance related to COVID-19, please see our Community Resources blog.)
Sacramento locally-owned Eats & Drinks: HERE
Curbside pickup and direct delivery

More delivery options:
Postmates, GrubHub, DoorDash, UberEats, FoodJets, Caviar.
More Restaurant happenings: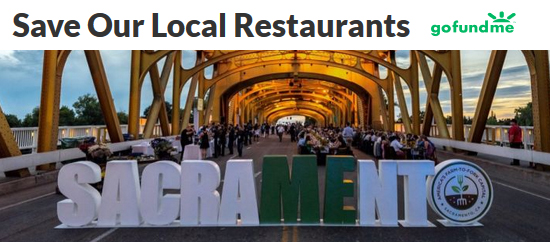 3/19/20:
HELP US SAVE OUR LOCAL RESTAURANTS
In response to the devastating impacts of COVID-19 on the Sacramento Restaurant Community and the Farm-to-Fork movement, Mayor Steinberg and Region Restaurants have established this GoFundMe to help support the survival and reopening of our locally owned independent restaurants and bars.  We ask that you donate to help support this cause.  Funds will be distributed to qualifying restaurants who apply.  The transparent distribution of these funds will be overseen by the executive leadership of Sacramento's business organizations under the advisement from the Mayor's office. https://www.gofundme.com/f/save-our-local-restaurants
3/23/20: The Virgin Sturgeon
Open for Take Out orders from 11:30AM to 6PM / Thursday-Sunday. Please call 916-921-2694 to place food orders for pick up. Credit Cards Only. Serving entire Lunch menu plus Sturgeon and Salmon Menu's.
1577 Garden Hwy.
3/20/20 Alaro Craft Brewery
Our team is knocking out a fantastic "Take Out" menu that changes daily! We also are fully stocked with bottles of La Boheme & Castillo or we can fill growlers of any of our beers for takeout! Check out our linkin bio for daily menu and beer variety. Call in you order (916) 436-7711 for pick-up!⁠ Alaro Craft Brewery⁠
2004 Capitol Ave Sacramento Ca 95811⁠
3/20/20: La Trattoria Bohemia
Per Sacramento county guidelines for restaurants La Trattoria Bohemia is closed for dine in but we are staying OPEN for TAKE OUT orders. Our customers' safety is our top priority, so please call us to place your order over the phone. We appreciate your business and your support in these trying times.
Pizza, goulash and dumplings, pastas, schnitzel – and more.
916-455-7803
3/19/20: Kasbah Staff Wage Relief Fund
Please consider helping support Kasbah's hard working staff through this difficult time. 100% of your donation will be split amongst front and back of the house. We are a small business, women and POC owned. Anything you donate will be greatly appreciated. Link for donations in both the comments and Bio!
Thank you, Debbie & Tanya
3/17/20: Cowntown Eats  – unemployment info
Cowtown Eats put together a helpful resources page for restaurant & hospitality workers. Have a look and please pass it on to the service industry employees in your life.
3/16/20: Sacramento Natural Foods Co-op updates
3/16/20: Canon East Sacramento
Our team has been working with local developer @bpxio over the last 72 hours to rapid prototype a platform called @pickupfixe to help streamline the curbside and pick-up process for restaurants in Sacramento. We will make this technology available to any restaurant that wants to use it for free. We plan to launch it within 48 hours. Sign up to stay in the loop. Link in bio.