Supporting Local Shops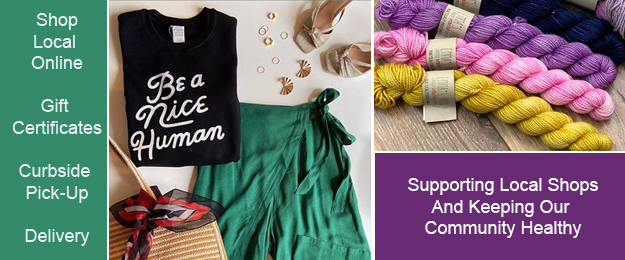 Supporting Local Shops – In Person, Online, Curbside Pick-Ups & Gift Certificates
Updated August 2020
Many local shops and boutiques now offer in person shopping. Please do your part in supporting the local shops you love. Sacramento wouldn't be the same without them! Many are also offering online shopping and curbside pickup.
Here is a link to our shopping directory. Please be sure to check the business social media page for the latest info on store hours and safety precautions.
4/23/20 Downtown Grid's locally owned shops guide:
Downtown Grid Sac – SHOPS – April 23, 2020
————————————————————————–
Stay updated on the latest recommendations by federal, state and local health officials and consider ways to support your favorite local businesses during this pandemic. Stay healthy and safe.
Julia Seebach and Rebecca Sykes, Downtown Grid Inc.
Online Shopping & Shipping – Keep it LOCAL
3/25/20:
These shops have their own online shopping sites – a great way to support local!
Andy's Candy Apothecary
Sourcing the world for high-end and classic candy, chocolates, gifts, and treats. Something for everyone.
1012 9th St. // 916-905-4115
Follow Andy's on Instagram
Capital Books on K
Support your locally owned book stores! Capital Books is asking for all questions (orders, curb-side pickup) to go through their chat feature on the website at: capitalbooksonk.com
1011 K St. // 915-496-2257
Follow Capital Books on Instagram
Casa De Mercado
Your one-stop shop for Mexican goods. Tiles, home decor, pottery, art, gift shop.
1015 2nd St. // 916-709-3215
Visit their online store.
Chefs' Olive Mix
Olive Oil & Balsamic Vinegar. Offering the most Ultra Premium Single Cultivar Extra Virgin Olive Oils, Fused & Infused Olive Oils, Dark Balsamics, White Balsamics, Specialty Vinegars and Gourmet Oils.
131 J St. // 916-706-3105
Cuffs Boutique
Unique, handpicked selection of both new and vintage clothing, accessories, home good and apothecary items.
2523 J St. // 916-443-2881
Follow Cuffs on Instagram
Heart Clothing Boutique
A petite boutique, custom-made to provide its clientele with an extraordinary experience.
1903 Capitol Ave. // 916-441-1359
Follow Heart on Instagram
Krazy Mary's Boutique and Sugar Shack Boutique
Krazy Mary's: 3230 Folsom Blvd. // 916-442-6279
Sugar Shack: 2425 J St. // 916-447-4435
Follow the latest styles on Instagram – they offer local shipping.
Little Relics Boutique & Galleria
To keep everyone safe, @littlerelics will be hosting online sales Mon, Wed & Fri. Stay tuned! Thank you for supporting our small business. Check out our online store. 
1111 24th St. Ste 103. // 916-346-4615
Follow the latest on Instagram.
Shawn Reginald Clothing Company
Visit their online store. They ship directly and have all kinds of finds for men.
1729 L St. // 916-400-4060
Follow Shawn Reginald Clothing on Instagram
Wild Poppy & Co Clothing Boutique
Visit their online store (free shipping and/or curb-side pick up) or call them for details a private shopping appointment. Face-time call, voice call, or text: (916) 500-3079
Follow Wild Poppy on Instagram for the latest updates
2315 J St. // 916-500-3079
Recent messages from some of our local shops:
3/17/20
Button Up Boutique
We're so grateful for you – thank you for supporting our small business & shopping local. If preferred, we can take payments over the phone & meet you at the door for pick up. Our store hours have been reduced & are now 11-6. 1710 R Street, #100
Heart Clothing Boutique
In these uncertain times we can only do what we think is best. We wanna make sure everyone's is staying safe. We will be still getting some new arrivals and posting on Instagram. We appreciate you all and your support stay safe and health. 1903 Capitol Ave
Rumpelstiltskin
For the safety of our community, we have made the difficult decision to cancel classes until April. The shop remains open seven days a week! We encourage you to take advantage of curbside pick-up and free shipping on orders over $50. We appreciate your understanding and continued support. We are closely monitoring the recommendations of public health officials – stay tuned here, we promise to keep you up to date with any changes in the shop. 1021 R St
Freestyle Clothing Exchange
In an effort to do our part in slowing the spread of COVID-19, Freestyle has decided to temporarily close all our stores, beginning March 17th until further notice.
It was a difficult decision to make, but nothing is more important to us than the health and safety of this community.
Please stay healthy, take care of yourself and each other. We're all in this together. ❤️ 1906 L St.
Follow Freestyle on Instagram