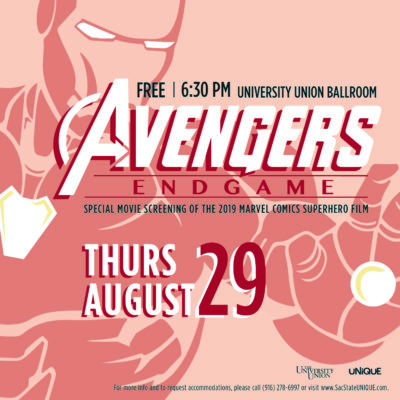 Description
The University Union's UNIQUE Programs will host a free movie screening of Avengers: Endgame. The event will take place August 29th at 6:30pm in the University Union Ballroom. The event is free for students and the general public.
The ever-favorable Tony Stark, Marvel's Iron Man, is drifting through space with low oxygen levels. He sends a message to Pepper Potts letting her know of his whereabouts. While Stark struggles in space, Thor, Black Widow, Bruce Banner and Captain America are banning together to bring all of their allies into a joined force. Their goal is to battle Thanos once and for all. Thanos' mission is to destroy the entire universe. The Avengers' goal is: save the day!
Film run time is approximately 182 minutes and is rated PG-13 for some suggestive content and language.
For more information on upcoming UNIQUE events, visit www.SacStateUNIQUE.com or call the University Union Information Desk at (916) 278-6997.
Find other events tagged under:
Event Categories