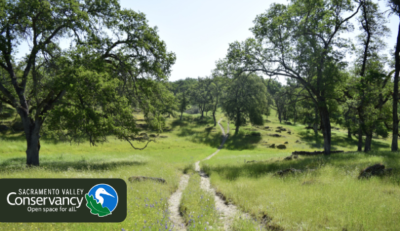 Description
OFF THE GRID: Weather permitting and reservations required.
Deer Creek Hills Preserve is located in eastern Sacramento County on Latrobe Road in Sloughhouse. It is one of the largest nature preserves in the Sacramento region and is a working cattle ranch, boasting over 4,500 acres of Blue Oak Woodlands, seasonal creeks and grasslands. Single track trails and ranch roads allow visitors to explore the beauty and expanding views of the Sacramento Valley and the High Sierra on foot, mountain bike or horseback. This preserve is only open on select days and times. More information is provided below.
Deer Creek Hills Preserve is only open when SVC staff, lead docents, or licensees are on the property to host and check-in visitors. These dates are scheduled in advance and posted on our website. Generally, the Preserve is open Saturdays from 9am-1pm during February-May and October-November.
It is also open for Monday night mountain biking from 4:30-8pm during July-October.
Find other events tagged under:
Event Categories