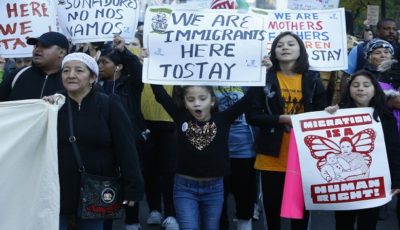 Description
Amid public outcry over the thousands of migrant children separated from their parents at the US-Mexico border, there are also long term legal consequences that will change the political and international landscapes. We are bringing together legal scholars and practitioners, community advocates and a civic engagement expert to discuss their different perspectives. The speakers will allow the audience to better understand immigration law and policy in the broader context of world affairs, as well as to encourage public dialogue on these issues.
This event is being co-sponsored with USC Sol Price School of Public Policy and Sacramento Area Congregations Together (SacACT).
Raquel Aldana
Professor of Law and Associate Vice Chancellor for Academic Diversity
Eddie Carmona
Political Director, PICO California
Holly Cooper
Co-director of the Immigration Law Clinic, UC Davis School of Law
Kevin R. Johnson
Dean, UC Davis School of Law, UC Davis
Mindy Romero
Director of the California Civic Engagement Project, USC Sol Price School of Public Policy
Patrick Gihana
World Affairs Sacramento Steering Committee
Please see below for details. For more information: call 415.293.4601 or visit the website.
Event webisode HERE
Find other events tagged under: lectures
Event Categories