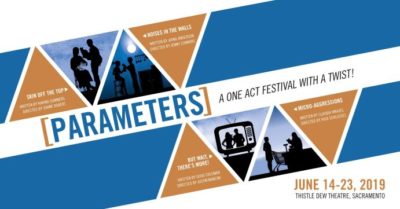 Description
Parameters
A One Act Festival With a Twist!
by Errant Phoenix Productions
Sure, there are several one act festivals out there. There might even be some who can brag that their festival has nothing but locally written scripts, or offers new directors the chance to shine. But our show is so much more.
We've collected four original one acts from Sacramento locals, then assigned those to some new directors, and cast a group of incredibly adaptable actors to perform those scenes. However, after they've wowed you with these hilarious one acts, the audience gets to be involved! The actors will perform the scene again with the parameters the audience has set! It's theatre meets improv and will certainly be a performance you'll never forget!
Come join us on this fun journey. There will be a series of one act plays that will be performed as the director visualized. In addition to those performances the audience will then have the opportunity to join in on the creativity. The cast will then put on the one act again except with the parameters the audience has set.
6 performances:
June 14 @ 8PM
June 15 @ 8PM
June 16 @ 2PM
June 21 @ 8PM
June 22 @ 8PM
June 23 @ 2PM
SPECIAL GRAND OPENING PERFORMANCE June 13. Party starts at 6PM. Improv group will start at 7:15PM. Your ticket gives you a ticket for our special performance, a free improv show, karaoke, 1 drink ticket, and hors d'oeuvres! Come help us celebrate our new theatre with a bang! Tickets for this event are $30 and are limited.
Thistle Dew Dessert Theatre
1901 P Street, Sacramento, CA 95816
Tickets are $18 online and $20 at the door. SARTA/Senior/Student/Military are $16 online, $18 at the door.
Tickets HERE
Find other events tagged under: culture, plays, theatre
Event Categories