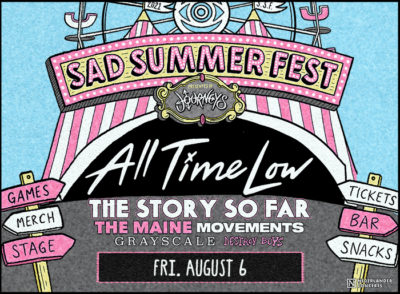 Description
We are very grateful to announce the new 2021 date for Sad Summer Festival. If you already have your 2020 ticket, you are already set, and it's good for 2021! If you do not have tickets yet, you can grab your tickets now at Ticketmaster.com.
Featuring All Time Low with The Story So Far, The Maine, Movements, Grayscale, and Destroy Boys.
Buy tickets at HERE (Ticketmaster link)
On-site parking is $15
Presented by Nederlander Concerts.
August 6, 2021
4:00 pm – 10:00 pm
$45.50 – $99.50
sadsummerfest.com
Venue:
Heart Health Park
1600 Exposition Blvd
Sacramento,CA 95815
916-641-2200
hearthealthpark.com
Organizer
916-247-6216
roger_shepherd@comcastspectacor.com
Find other events tagged under:
Event Categories