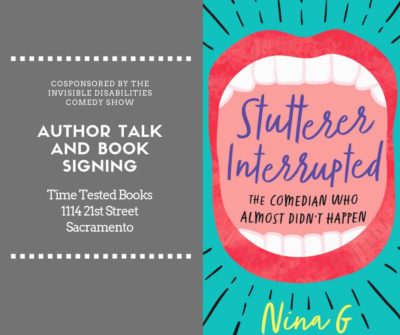 Description
On stage she encounters the occasional heckler but off stage she is often confronted with people's comments toward her stuttering. Listeners often complete her sentences, inquiring, "Did you forget your name?" and giving unwanted advice like, "Slow down and breathe" (as if she never thought about slowing down and breathing in her over thirty years of stuttering!). Nina's brand of comedy reflects the experience of many people with disabilities in that the problem with disability isn't in the person with it but in a society that isn't always accessible or inclusive.
Nina G shares her book, experiences and humor at Time Tested Books. The event is co-sponsored by the Invisible Disabilities Comedy Show. Nina will be joined by Aliada and Drew Kimzey for an interview about the Stutterer Interrupted.
*FREE* AND OPEN TO ALL!
Find other events tagged under:
Event Categories