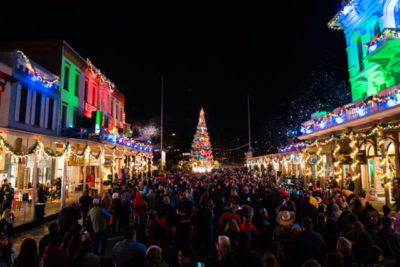 Description
Theatre of Lights is a free holiday lighting extravaganza at the Old Sacramento Waterfront produced by the Downtown Sacramento Partnership. The nightly performances Thursday through Sunday from Thanksgiving Eve – Christmas Eve (no show on Thanksgiving) feature a live-action retelling of Moore's 1823 poem — "A Visit from St. Nicholas," more popularly known as "' Twas the Night Before Christmas."
The highlight of the 20-minute production is a live dramatization on the balconies above K Street, complete with a special appearance by Jack Frost, and the lighting of the 60-foot Christmas tree by St. Nick himself. Discover how early pioneers experienced the calamities — and revelry — that befell the new city in the 1850s, the sounds of the fires, floods, and parties will surround the audience as the 150-year-old building facades light up with color.
Conceived and created by Stage Nine Exhibitions' Troy Carlson, Theatre of Lights brings together some of California's finest talents in the field of light and sound: BP Productions, Associated Sound, and Emmy-nominated voice actor Bill Farmer, the voice of Disney's Goofy.
Debut: Wednesday, November 24 (Thanksgiving Eve)
(immediately following the annual Tree Lighting Ceremony at Front & K Streets at 6 p.m.)
After the debut night:
Two 20-minute performances are offered:
Thursdays – Sundays
at 6 p.m. and 7:30 p.m.
(with the exception of Thanksgiving Day when no performances are scheduled).
Additional performances are scheduled for:
Tuesday, December 21
Wednesday, December 22
Find more information about Theatre of Lights at GoDowntownSac.com.
Find other events tagged under:
Event Categories