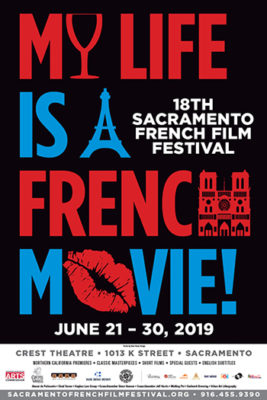 Description
18th SACRAMENTO FRENCH FILM FESTIVAL (June 21-30, 2019 – Crest Theatre):
Program announcement! BONJOUR ! The 18th Sacramento French Film Festival will be held at the Crest Theatre, June 21-23 & 28-30, 2019.
The 18th SFFF will open on Friday, June 21 at 7pm with INVISIBLES, a comedy starring homeless women.
After finding out that the day shelter for homeless women that they run is set to close by administrative decision, social workers decide to take drastic steps, that include bending the rules, to give their women the means to get off the streets for good.
French stars share the screen with real-life homeless women playing themselves in this tender and sincere feel-good comedy on a timely topic right here in Sacramento.
Find more about the 20 feature films (a record for the SFFF!) playing this year in the document attached and on our website: www.SacramentoFrenchFilmFestival.org
Find other events tagged under: alliance francaise, crest theatre, film festival, french culture, sfff
Event Categories