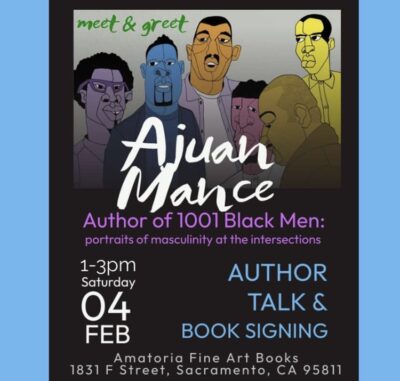 Description
SATURDAY, Feb 4th, 1-3PM: Book signing and Q&A w/ Oakland author and artist, Ajuan Mance! Professor Mance will be signing her latest book and sitting down with our own @laurelingilmoreartist to talk shop about her recent projects art and writing.
Through her teaching and scholarship, Mance focuses on history and Black literature in the United States. She has authored, "Inventing Black Women: African American Women Poets and Self-Representation, 1877-2000", "Proud legacy: The "colored" schools of Malvern, Arkansas and the community that made them", and "Before Harlem: An anthology of African-American literature from the long nineteenth century."
Mance's art complements her scholarship in exploring similar themes of race, gender, identity, and history. She is the creator of a number of zines including "Gender Studies", "The Little Book of Big", "Black Bears", and "A Blues for Black Santa."
Join us Saturday, February 4, from 1-3pm to hear her speak about her art book and portrait project, "1001 Black Men: portraits of masculinity at the intersections" Hear the stories behind this beautiful project, meet the artist-author, and pick up your copy of Mance's book. We'll even have a limited number of copies with a signed fine art print! #BLACKHISTORYMONTHEVERYMONTH
Our gorgeous African American, African, and Egyptian Sections will be 20% OFF this Saturday in honor of Black History Month. We have some new, rare arrivals that have traveled halfway around the world to get to us and they are mind-blowingly beautiful.
Space is limited; arrive early to secure your seat. We are in a residential area so please be considerate of our neighbors by conserving parking space.
Find other events tagged under:
Event Categories