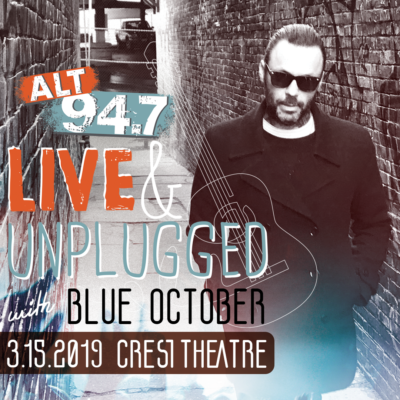 Description
You loved them at City of Trees, so we're bringing them back for an intimate acoustic performance at the Historic Crest Theatre! Join us on Friday, March 15th for Blue October Live and Unplugged! Special acoustic performance, live Q&A, plus photo ops with Justin and Ryan!
Tickets available at alt947.com
Visit blueoctober.com to become a VIP and get the full intimate experience!Doors open at 7pm.
Ticket Prices:

GA Assigned Seating – $35

Access to the venue at 7:00pm

VIP Experience – $85 + purchase of GA assigned ticket.

Access to exclusive Blue October Sound Check Party before doors open
Ask Justin the questions you've always wanted the answers to in our exclusive Q&A period!
Attendees of the Sound Check Party will each receive their very own cool, collectible poster

&& have a chance to get it signed by Justin!!

Get the chance to chat with Justin and take a photo to commemorate this one of a kind experience (can later be downloaded from blueoctober.com)
All Sound Check Party attendees will receive a wristband which grants them early access for GA Doors
VIP Upgrade – https://www.showclix.com/event/kingtour315mg
Find other events tagged under: crest theatre
Event Categories