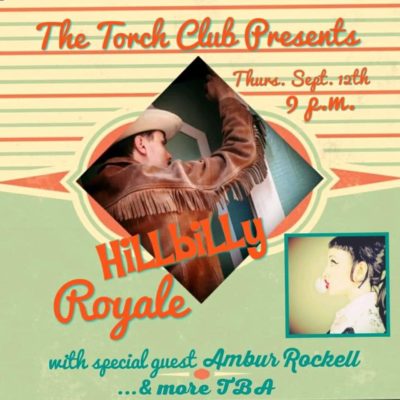 Description
Facebook: Hillbilly Royale, Ambur Rockell
Featuring Ambur Rockell ÷ more
Hillbilly Royale is a conceptual platform that arose in the reaching minds of Sebastien Bordeaux.
HR is less of a band and more of an ever revolving group of musician giants that form together at random depending on where they decide to bring the variety show. With a never ending list of guest guitarist, steel players, violinists, harpists, horn players and whatever else Bordeaux can lasso together, HR is always keeping their performances fresh.
Bordeaux has an unwavering love for American roots music. With that love he writes many originals and covers standards that range from jump blues, swing, honky tonk, rockabilly and americana music.
Hillbilly Royale will be featuring their guest Ambur Rockell, original music artist and author of Midnight Balladera, for a a small set of her hillbilly jivin' originals…along w/ other guests TBA.
Come swing and grind w/ Hillbilly Royale.
EVENT WEBSITE: HERE
Find other events tagged under:
Event Categories