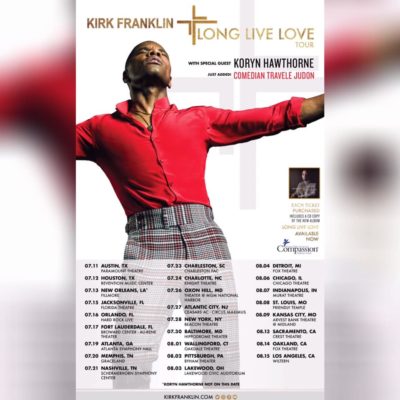 Description
Official website: Kirk Franklin, Travele Judon
Facebook: Kirk Franklin, Travele Judon
with Travele Judon
He's known as an incomparable artist, speaker, author, businessman and humanitarian and after more than 20 years as the top selling contemporary Gospel artist, multiple Grammy award winner, Kirk Franklin, shows no signs of slowing down. In 1993 Kirk revolutionized Gospel Music and bridged the gap between the faith community and mainstream Urban Music culture. The genius fusion of the gospel message and hip-hop beats have made him a mainstay atop Billboard charts for more than 20 years.
As the music industry struggles to remain connected to fans that are weary of microwave stars-Many believe the secret to his continued success is rooted in his artistic genius of being innovative, relevant and authentic about his faith. Kirk has always been transparent about being abandoned by his parents, adopted by his grandmother and his humble beginnings. Kirk has never hid behind his celebrity status but has remained connected to his audience through his music and frank discussions of life issues.
In addition to his musical endeavors, Kirk Franklin is Chairman & CEO of Fo Yo Soul Entertainment based in Dallas, TX. The company includes Fo Yo Soul Recordings — (a Joint Venture with RCA Records); a Management arm and a Booking and Touring division that includes both performances and speaking engagements. Kirk's greatest joy is his wife Tammy, happily married for 20 years, and their 4 children that reside in Dallas, TX.
Awards & Nominations
• 12 Grammy Awards
• 39 Stellar Awards
• 16 Dove Awards
• 8 NAACP Image Awards
• 3 BET Music Awards
Chicago native Travele Judon has always had a love for the art of performing. As a child, Travele participated in theater, concert and marching band, as well as tap dance. With the idea of becoming an over the top entertainer, in 2007 Travele's love for God and family entertainment led him to become a clean comedian.
Travele's clean comedy career has taken off with performances all over the U.S. His first tour, The Vision, The Venture, and The Victory Tour, kicked off in Memphis, TN and would go through 22 cities ending in Travele's home town of Chicago, IL. Travele also toured on the Saved and Lovin' It Tour, opening for Mary Mary, Tye Tribett, Vickie Winans, and R&B singer Jeremih.
In 2016, Travele starred in a pilot, The Travele Show, a sitcom about a popular standup comedian juggling the perfect family life and the mainstream comedy industry.
Most recently, he can be seen on Food Networks hit series, Worst Cooks in America, premiering this January.
EVENT WEBSITE: HERE
Find other events tagged under:
Event Categories