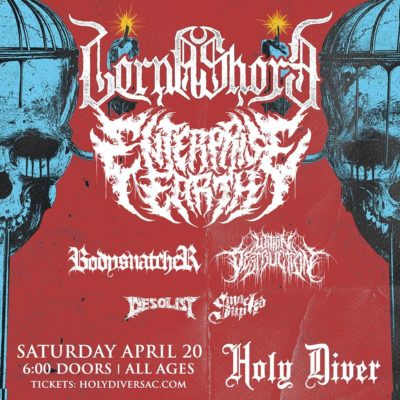 Description
Official website: Enterürise Earth
Facebook: Lorna Shore, Enterprise Earth, Bodysnatcher, Within Destruction, Desolist, Smack'd Up
Playing with Enterprise Earth, Bodysnatcher, Within Destruction, Desolist, Smack'd Up
Enterprise Earth – While death metal is one of the darkest subgenres of music ever created, steeped in macabre imagery of blood and gore and delivered with guttural bellows and piercing squeals, it is not without its guiding lights or impassioned empowerment.
ENTERPRISE EARTH, a band committed to the brutal audio onslaught and proficient excellence, carves out personal meaning from the darkness. They conjure self-determination and iconoclastic independence, from within the bowels of extremity.
The band's authentic death metal precision and technical might is unquestionable, as evidenced in clubs, theaters, and festivals on tour, as ENTERPRISE EARTH has teamed with contemporaries like Dying Fetus, Whitechapel, Chelsea Grin, Thy Art Is Murder, Carnifex, Oceano, and Winds Of Plague, and joined the Summer Slaughter Tour with iconic genre trailblazers like Cannibal Corpse, Nile, and Suffocation.
In just a few short years of existence, the Spokane, Washington based outfit has churned out an impressive discography of diverse sounds, from the early deathcore rumblings of the XXIII EP (2014) and the astonishingly savage debut full-length, Patient Ø (2015), to the adventurous, cerebrally-thematic Embodiment (2017). Now partnered with eOne Music and Good Fight, ENTERPRISE EARTH has crafted their definitive work, Luciferous, produced and mixed by the highly acclaimed Jason Suecof, an album of epic proportions firmly establishing them among metal's elite.
EVENT WEBSITE: HERE
Find other events tagged under:
Event Categories