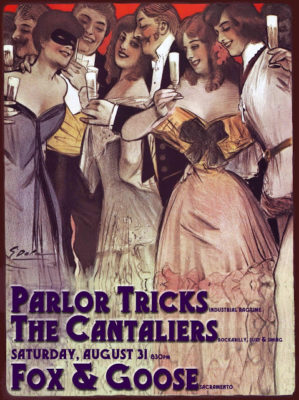 Description
Official website: Parlor Tricks, The Cantaliers
Facebook: Parlor Tricks, Cantaliers
Playing with The Cantaliers
Parlor Tricks is the world's first and foremost industrial ragtime band, scratching that hard to reach spot between Fats Waller and the Ramones. The Cantaliers are Northern California's hottest blend of Rockabilly, Surf, and Swing.
Through subtle power of suggestion and sleight of hand "Parlor Tricks" has remained a musical lightening rod for over 75 years.
Originally founded by the Kalamata sisters, Ernestine and Bertrude, who deserted the family vaudeville act to pursue their more bawdy musical aspirations. The act floundered until the sisters recruited bassoon virtuoso Boris Matzatoff to arrange their hit recording of "Muffins on Sunday," featuring Bertie's now famous flugelhorn solo.
Accompanying sheet music sales set the band on the path that it has followed, with occasion personnel changes, until the present day. The current lineup of the band features Melina Selverston on vocals and flugelhorn and Eddie Scher on the newfangled mechanical resonating metal plectrum. Recent additions to this eternal combination include Jeff Bruner on upright bass.
In 2008 the group relocated to San Francisco, California, from Dobbs Ferry, New York, where the group had spent nearly a quarter-century performing, rehearing, and in frequent (often heated) band meetings. The move was inspired by a promise issued by the 98 year-old Matzatoff, currently residing at the Bay Area Home for Unholy Wretched Geezers, of great wealth and much improved sushi.
This most recent move of the Parlor Tricks undying musical association brought this reaction from the editors of Catfish Musicology Journal, "this move will breathe new life into a musical act that has survived on inspirative singing, fine song craft and scintillating banter for longer than anyone cares to remember."
The Cantaliers are Northern California's hottest new blend of Rockabilly, Surf, and Swing. No venue is too large or too small for this band as they play to the crowd. Whether planning for a corporate event or for a birthday party, The Cantaliers will have your crowd entertained!
EVENT WEBSITE: HERE
Find other events tagged under:
Event Categories