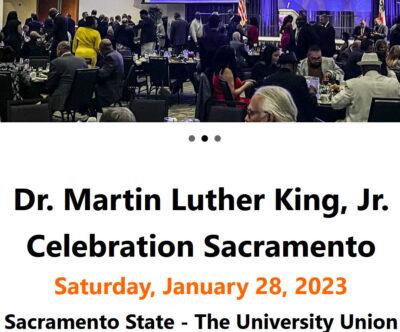 Description
5-10pm at Sacramento State University Union Ballroom
Co-founder, Dr. Dorothy Enomoto, was a classmate and close friend of Dr. King. Their friendship – sealed by sharing valedictorian honors at Booker T. Washington Senior High School in Atlanta – continued through the remainder of his life. Co-Founder, Jerry Enomoto has the distinction of being the first Asian Pacific American to receive a presidential appointment as United States Marshal in 1994, when President Clinton did just that.
The late Congressman Robert T. Matsui served as the honorary co-chair at the inception of the dinner; his wife, Congresswoman Doris O. Matsui took over the role after his death in 2005.
A portion of the proceeds help fund the MLK Committee grant program. The MLK Committee is a California Nonprofit Public Benefit Corporation.
About the Event
Through peaceful protest, the Reverend Martin Luther King, Jr. spent his life as a social activist working against injustice. Dr. King worked to end the legal segregation of African Americans, founded the Southern Christian Leadership Conference, was a recipient of the Nobel Peace Prize, and his life had a profound impact on race relations in the United States. Since it was first observed nationwide in January of 1986, the holiday commemorating the life of Dr. Martin Luther King Jr. has served as a reminder of his legacy to the causes of civil rights, nonviolent opposition, and community service.
In 2000, Sacramentans Dr. Dorothy Enomoto, a classmate and close friend of Dr. King, and her husband, Jerry Enomoto co-founded the greater Sacramento region's annual tribute event to Dr. Martin Luther King, Jr. With the late Congressman Robert T. Matsui serving as honorary co-chair in the early years, the MLK Celebration event has brought together thousands of elected officials, community and business leaders, law enforcement, nonprofit groups, clergy from all denominations, community members, educators, students and more to remember and celebrate the legacy of Dr. King.
Today we continue to celebrate Dr. King's commitment to helping change the world for the better. Please join us for the 24th annual MLK Celebration vent on Saturday, January 28, 2023.
Honorary Event Chairwoman
Congresswoman Doris Matsui
Location website HERE
Tickets and event info HERE
Find other events tagged under:
Event Categories