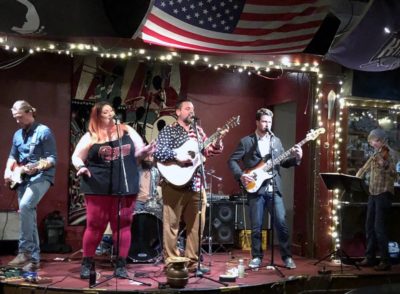 Description
Official website: Acoustic Road
Facebook: Be Bold Brave Rabbit, Acoustic Road
Also playing with TIM HOLT ACOUSTIC ROAD SHOW
"Acoustic-folk popsters Be Brave Bold Robot make amusing music. Whether it's Dean Haakenson spitting out humorous tongue-twisting lyrics or the imagery those lyrics provide (the description of the traditional minivan family in "Gridlocked" is subtly hysterical) – there is much to enjoy. The group's wordplay is also quite clever: The potentially provocative rhyming opportunities on "Take a deep breath" veer in unexpected directions. combining folk pop with viola and banjo, these guys create engaging tunes."
– Brian Palmer, Sacramento News and Review
Acoustic Road is a NJ-based acoustic rock and classic rock duo specializing in the faithful re-creation of the legendary sounds that helped define the 60's, 70's, 80's and beyond. From mellow ballads to upbeat rock classics by such artists as The Allman Brothers, America, Beatles, CSN, Eagles, Grateful Dead, Rolling Stones, U2 and lots more, Acoustic Road performs the music that audiences know and love – but rarely have the opportunity to hear… especially performed live.
With their strong lead vocals, precise harmonies, solid musicianship and reverence for every song they play, Acoustic Road consistently succeeds in making audiences smile, sing along and have a great time!
So if you're looking for quality musical entertainment for your party, event or venue – then look no further than Acoustic Road – the best of classic rock and acoustic rock.
EVENT WEBSITE: HERE
Find other events tagged under:
Event Categories