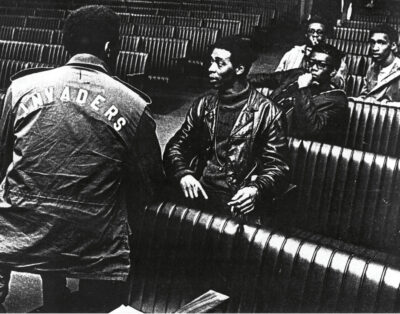 Description
Film Screening: THE INVADERS
February 16, 2023
Doors Open 6:30pm / Screening Begins at 7pm
With Special Guest Speakers:
King Khan and John B. Smith
.
THE INVADERS is a feature-length, documentary film, which tells the story of a group of young black militants in late 1960's Memphis, Tennessee. Founded by two college students and a Vietnam veteran, The Invaders played an integral role inn the Memphis sanitation strike and in the negotiations with Dr. Martin Luther King, Jr. minutes before his assassination.
Directed by Prichard Thomas Smith, THE INVADERS touches on themes of race, privacy and economic justice through the use of historic footage, still photography and interviews with the founders of The Invaders. The filmmaker offers a unique perspective on the Sanitation Strike by emphasizing the role of resident youth in the movement, as well as focusing on the function of poverty and economic disparity in Memphis. The film score includes several rare audio recordings from inner city studios from 1960s Memphis, in addition to original tracks composed for the film by Jack Oblivian and King Khan.
The Invaders have an overlooked story, yet played a vital role in the advances of civil rights. Historically persecuted, their group efforts to seek positive change in their community amongst the violence and chaos of the late 1960s have not been validated until now.
.
MORE INFORMATION HERE
Find other events tagged under:
Event Categories