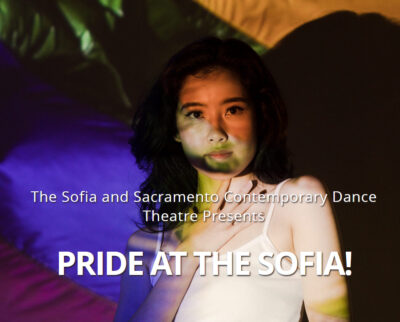 Description
Pride at The Sofia!
We are hosting a full day of Pride fun at The Sofia. Join us from 2:30pm for vendors in the lobby. Performances will begin at 4pm.
Through sensational storytelling and beautiful movement, The Sofia, Home of B Street Theatre in Partnership with Sacramento Contemporary Dance Theatre creates a safe environment to witness the challenges that so many endure while discovering who they are. Celebrating the uniqueness and color of the LGBTQ+ community as a whole, the show features a brilliant ensemble cast from SCDT and a diverse set of voices from our creative community here at The Sofia, including the B Street acting company, local musicians, slam poets, drag queens and more!
This forum reaches all ages and provides an opportunity to educate people about the LGBTQ+ community. Children, parents, and families that may not have access to queer representation might begin to have a conversation or be more open and aware of LGBTQ+ stories after experiencing this production.
All profits go to The Creation District
PERFORMERS
AMY KELLY
Amy Kelly is a core company member at the B Street theatre. Her recent credits include The Lost Clause, The Flying Machine and Winnie the Pooh. She is a singer song writer and the other half of the duo Mustache and Cleavage. She's out proud and happily married with three very tall children. She will be performing solo a song that she wrote for her wife Marissa.
MERCURY RISING
Mercury Rising is Sacramento CA number one drag queen voted 5 years in a row, has shows every week in Sacramento and beyond. Dedicating the last 10 years to perfecting their craft, Mercury has been providing a safe space for people to enjoy LGBTQIA+ entertainment with out any fear or judgement.
UNIEKE MOORE
Unieke Moore is a new queen in the scene that just hit her two year mark! Within these two years, she has taken the Nor-Cal drag scene by storm performing all over and collecting many titles!
ANDYES
AndYes has published 9 chapbooks, one full length compendium of his work, a spoken word album, three separate one-man-shows, and on top of touring nationally and internationally with his work, he has has performed for and spoken at the 2018 Democratic Convention, Global Shapers' World Economic Forum, and is internationally ranked in the Individual Word Poetry Slam proudly representing Sacramento, California.
LISA BUNKER
Lisa is a long-time rainbow author and activist. She feels a sense of mission in her writing work, making the books she wishes she could have found as a child. Her latest book, released on June 6th, 2023 from Philomel, is She Persisted: Rachel Levine, a chapter book for young readers that tells the story of our current US Assistant Secretary of Health. Admiral Levine is the first out trans person to be confirmed by the Senate for such a high-ranking role. Lisa will talk about her Pride in writing and read an excerpt.
KC SHANE
KC Shane is an independent singer, songwriter, poet, artist, & social justice activist living and working in Sacramento, CA who also happens to be a transgender man. He is originally from a small town in Indiana, where he began creating music in 2004 at age 14, but has been living and working in Sacramento since 2012. KC grew up listening to all different genres of music and found inspiration in each one. He creates a "genre fusion" and lives out of the box when it comes to creating as well as how he lives his life. Friends and fans say his sound reminds them of City & Colour, Sam Smith, Tracy Chapman, Iron & Wine, James Taylor, Alice in Chains (unplugged), and other alternative 90's musicians.
OUR INCREDIBLE EMCEE: GRACE LOESCHER
Grace Loescher (she/they) is a practicing artist, published poet, professional advocate for youth experiencing homelessness, part time emcee/host, and full time creator. Grace is the co-founder and host of Speak Out Sacramento, local open mic and breeding ground for creatives. Grace has also performed poetry in several cities around California, including performing at the Democratic State Convention. In 2015, Grace founded and now currently runs the Creation District, a safe haven for creation, discovery, activism, daring, and dream-making for Sacramento's youth and young adults experiencing homelessness and economic instability. She partners with local charter schools and local non-profiits to teach social justice through the arts and to make creativity accessible to underserved communities. In her spare time, Grace can be found producing Broadway musicals in her backyard and scavenging treasures from other people's trash piles. Her work can be found at www.thecreationdistrict.com and www.speakoutsacramento.org.
Doors open 1 hour prior to showtime. This show is All Ages
Find other events tagged under:
Event Categories