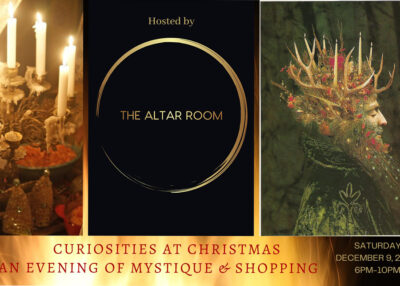 Description
Map Unavailable
The Alter Room presents
"CURIOSITIES AT CHRISTMAS"
SATURDAY DECEMBER 9, 2023 FROM 6PM-10PM
An evening of mystique, shopping, drinks, and socializing… including a special guest "Fortune Teller".
Celebrate the upcoming winter solstice and join us!
Enjoy an intimate stroll through thoughtfully curated antiquities,
curiosities, and bewitching gifts in the spirit of Yule. Including featured guest old-world merchants.
An enchanted evening to shop, sip, and be inspired. Enjoy ambient music and all its pagan delights.
A variety of beverages will be available for purchase at the bar.
Let's make it a beautiful evening!
***
SATURDAY DECEMBER 9, 2023, FROM 6PM-10PM
This social shopping experience is being held inside the Altar Room.
Located at 3045 65th Street, suite 6, Sacramento, CA 95820
There is no cost to attend this event, however, we ask that you support the heck out of the experience!
Come alone or bring a friend, no one is a stranger!
Find other events tagged under:
Event Categories