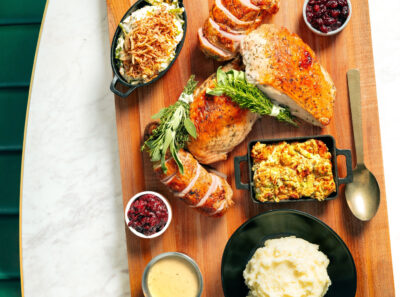 Description
Map Unavailable
repost:
https://www.facebook.com/seventhstreetstandard
Join us at The 7th Street Standard this Thanksgiving for a feast you won't forget! Our hours of service have been adjusted to ensure you have a memorable dining experience.
Feast on our mouthwatering Standard Turkey Dinner, featuring Slow Roasted Turkey Breast, Roulade of Leg and Thigh, Sourdough Stuffing, Cranberry Chutney and Yukon Gold Mashed Potatoes and Gravy.
Don't miss out on our delightful a la carte sides, including Sourdough Stuffing, Green Bean Casserole, Cranberry Chutney, Yukon Gold Mashed Potatoes and Extra Gravy.
For dessert, our heavenly Pumpkin Cream Puff dessert!
Join us this Thanksgiving and make it a day to remember!
Book your reservations now.
https://www.the7thstreetstandard.com/
Brunch: 7am-2pm
Happy Hour: 2pm – 5pm
Thanksgiving Day Dinner: 4pm – 7pm
Find other events tagged under:
Event Categories