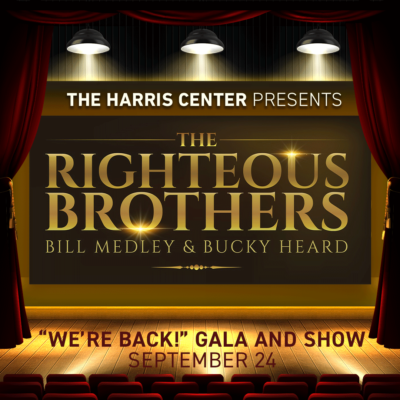 Description
Harris Center for the Arts presents THE RIGHTEOUS BROTHERS: BILL MEDLEY & BUCKY HEARD.
"We're Back!" Gala and Live Performance. Don't miss the Harris Center for the Arts first special event of a new era! This elegant, black tie optional evening celebrates the return of touring companies at the Harris Center!
All Gala guests will have the opportunity to view a short Harris Center history video in Stage Two and relax to the Folsom Lake Symphony's string quartet in Stage Three prior to the concert at 8:00 pm.
8:00 pm THE RIGHTEOUS BROTHERS: BILL MEDLEY and BUCKY HEARD Concert
Rock and Roll Hall of Famer, Bill Medley and his partner Bucky Heard, will take you on a nostalgic journey through the legendary musical stylings of one of the greatest rock and roll duos of all time. We hope you are ready for this once in a lifetime experience, featuring timeless classics like Unchained Melody, You've Lost That Lovin' Feelin, (You're My) Soul & Inspiration, and endless memories. Get ready to have the "Time of Your Life!"
Find other events tagged under:
Event Categories